With the holidays right around the corner, things can get hectic. 'Tis the season to take time to treat yourself to something sweet, and our friends at local Asian-American bakery OMG Squee have got the goods!

From their delectably dense mochi donuts and kaleidoscopic assortment of macarons to their seriously adorable merch, there's something for everyone to be thankful for. Self-described "skill hoarder" and owner Sarah Lim sat down with us to share a few of her favorite things and the joy of embracing the cuteness.
Owner Sarah Lim in her own design, the classic Squee Tee. Photo by Blaine Leggett
Baking is such a meticulous profession. But looking around it seems like y'all have a lot of fun too.
We have a really good crew here. Everybody here genuinely likes to hang out with each other so I think that helps, everybody has a really good time. Plus nobody here takes themselves too seriously. But we care a lot about the products we produce—so we're serious in that aspect. Baking can be really physically taxing, it's very technical, it's definitely a science even if it's a kind of a loose science. I think people are surprised how technical a lot of the stuff that we make is.
Yeah, your treats are very pristine and precious and cute! Almost don't want to eat them, they're so cute.
Well they taste good too! [Laughs.] Even though it's a lot of work… I always joke that our style is "cute dumb baby." No-thought-in-brain.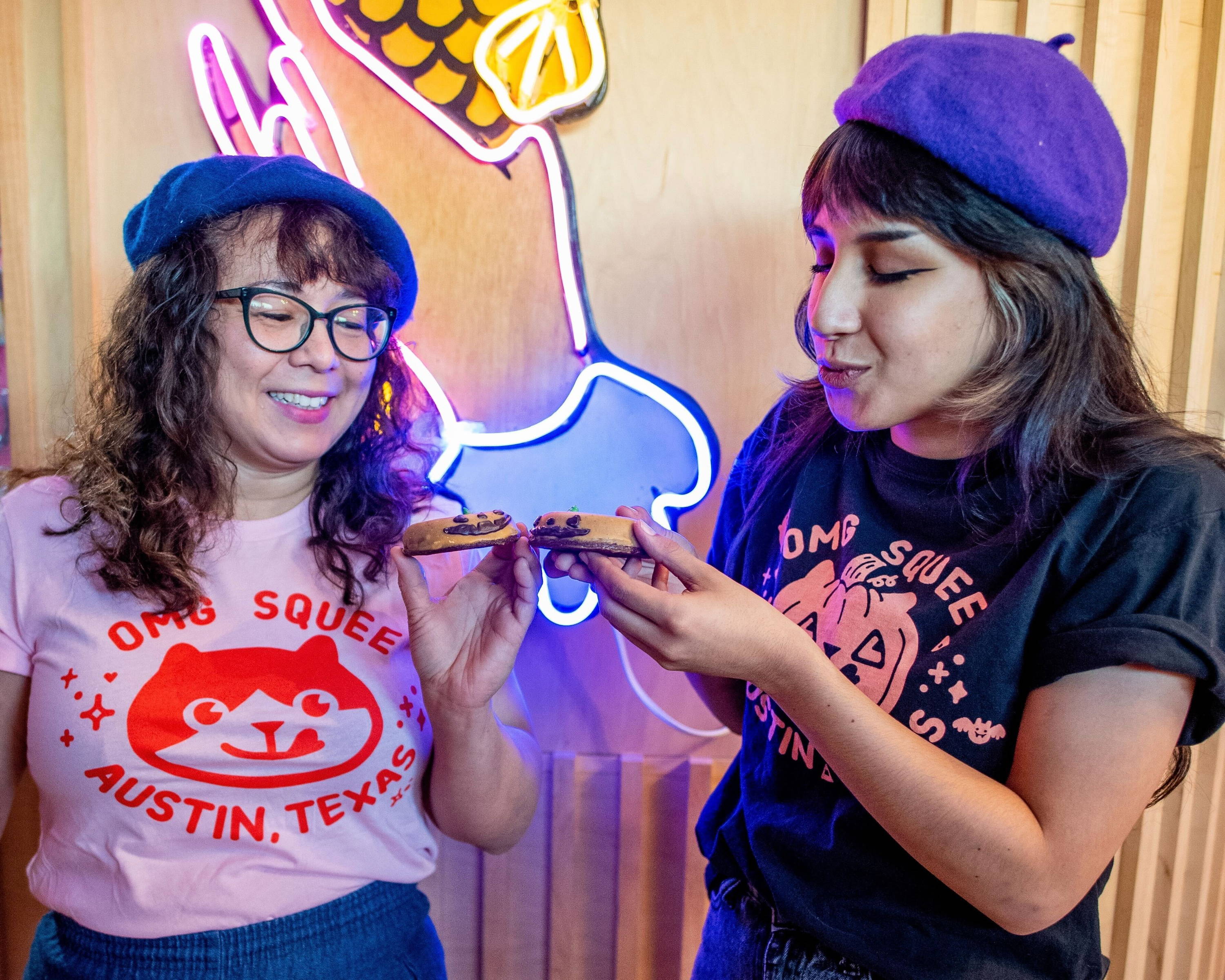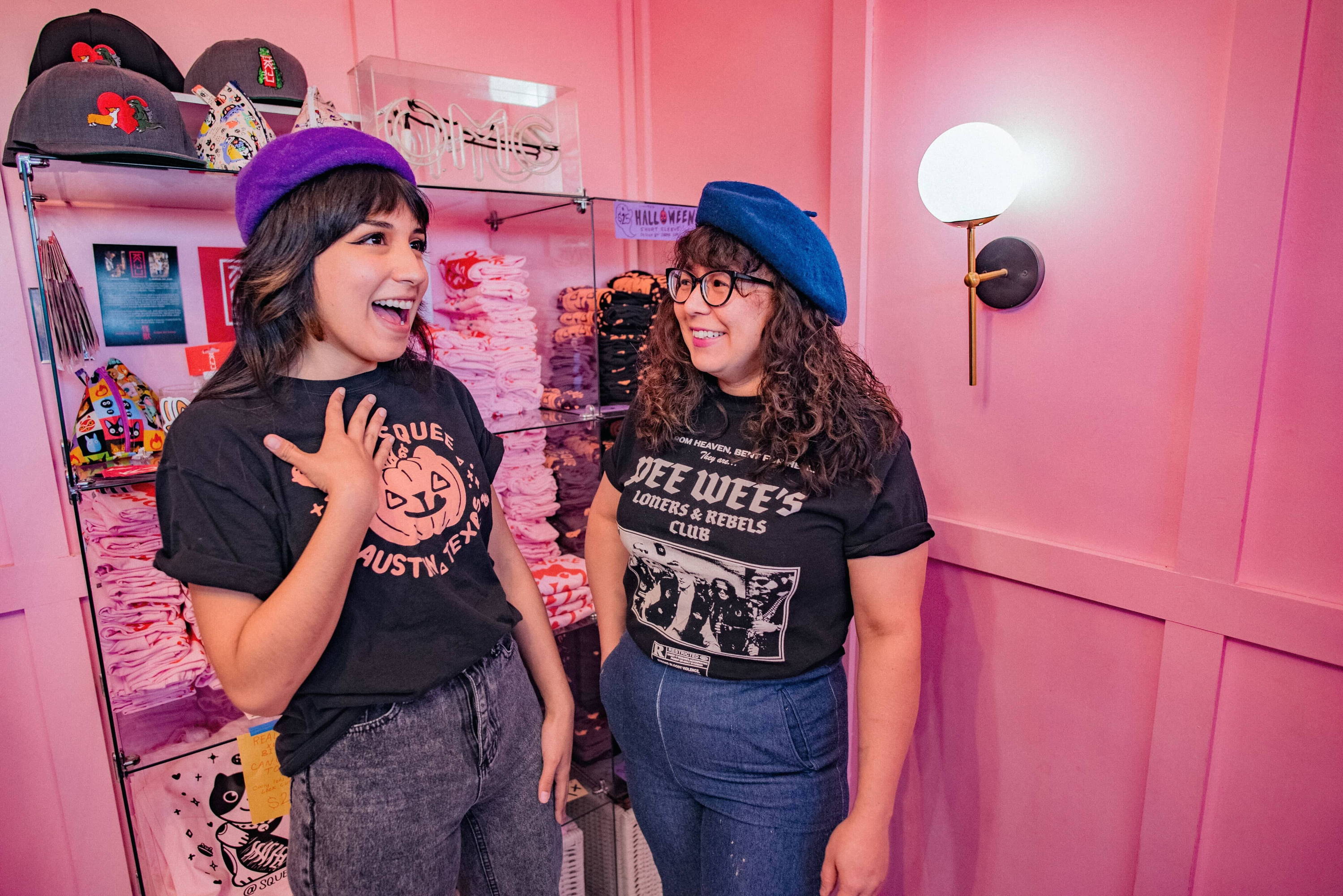 Ezlyh (left) and Sarah stay squeeing about their cutest lil merch corner! Photos by Blaine Leggett
How did the concept for OMG Squee come to be?
I've always been really passionate about cooking. I'm a super nerd, I grew up watching PBS cooking shows—I'm still obsessed with PBS cooking shows. When I decided to change careers, I didn't see stuff that I liked represented in the food scene, so [I thought] it would be really cool to pull some of my Asian-American heritage in and my love of really cute things and fun experiences and kind of pulled all that together and that's how we developed this place. Macarons were the first major thing I learned how to bake well and started out selling them at farmers' markets and pop-up markets and developed everything else from there. Just stuff I like, basically.
It sounds crazy, but I'm always like, I'm not special. To me, that gives me solace knowing I'm not special because if I like this thing, other people surely also like this thing! There's a community out there with somebody [in it] just like me, so to me it's nice. I'm not unique, so somebody else must be into the things that I'm into too.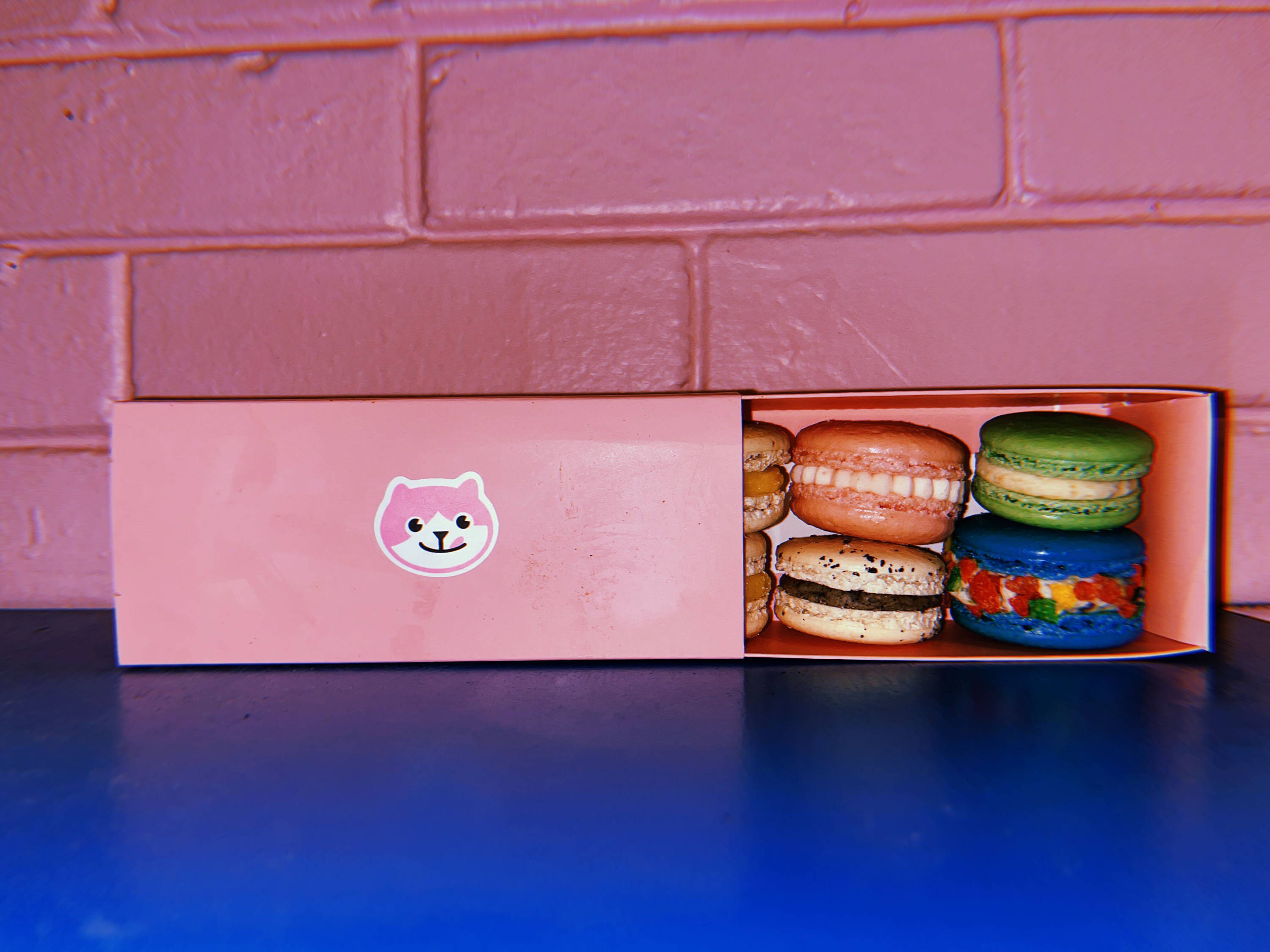 Eye Candy: Macaron flavors range from traditional pistachio to funky fruity pebbles.
That's a good way to look at it. And food is such a natural comfort to people. What are some other ways you indulge and treat yourself?
What little free time I have, I'm pretty much eating somewhere or researching food. But other than that, I call myself a "skill hoarder." I have a lot of other things that I like to do too—the [neon] signs in the shop, I've made those. I do all the design work for us and t-shirt designs. Being creative and working with my hands, you'll find me building something or tinkering with something usually. The first renovations we did on this place, it was just me and my partner and we built everything from scrap that we could scrounge together before [Netflix show] Queer Eye made us over. Super scrappy.
Where do you currently enjoy dining out?
Austin is such a good food city and so underrated compared to bigger cities. It's getting a little more recognition [now]. There's a place called Sap's, a Thai place. They know us by name because we've been going there at least once a week for years. That's just good, easy comfort food. I can go get a big bowl of noodles… I like to cry when I eat, so I like really spicy food. I like crying—it's cathartic—just let it all out while you eat! [Laughs.] Just give me all the spice. Our friends down the street from us at Nixta [Taqueria], they're doing some amazing stuff over there and have all the accolades to prove it. Their food is amazing and they're really awesome people.
Taco places that I don't even know the name of. This little pho trailer down the street from us. If anyone comes into town, I give them a list of places. Anytime I've traveled, I'm moving meal to meal. To me, I'm like, Yeah, you're traveling, so you obviously need to know where to eat six times a day, right?
What are you most looking forward to coming up?
Holidays are always really fun for us. We do cute pies for Thanksgiving. We have a lot of character macarons for Christmas. Lunar New Year—we always celebrate our birthday on Lunar New Year so we'll do that in January. We'll have line dancers and there will be an art market!