Novelist Milan Kundera once wrote: "It's not for nothing that fantasy exists. It's what makes homes of our houses."
Personally, I can't think of a faster way to kill a fantasy than overhead fluorescent lighting. A rosy glow is the way to go, so whether you're looking to add some magic to your dwelling or create an atmosphere for getting more intimate, candles can instantly transform a space. It makes sense why humans have been gathering around the flicker of a wick for centuries, be it for everyday use, spiritual practice or casting a romantic aura; it's an easy way to ground oneself in the present. After all, a burning flame demands our immediate attention.
Addy Medernach, owner of home and self-care product line Dim All The Lights, understands the importance of slowing down, lighting up and getting cozy. With her vibrant candles, adorable roach clip keychains and (newly crafted!) massage oils, there's something for everyone to indulge in.
Below are 5 tips from the domestic artisan herself for keeping the fantasy alive.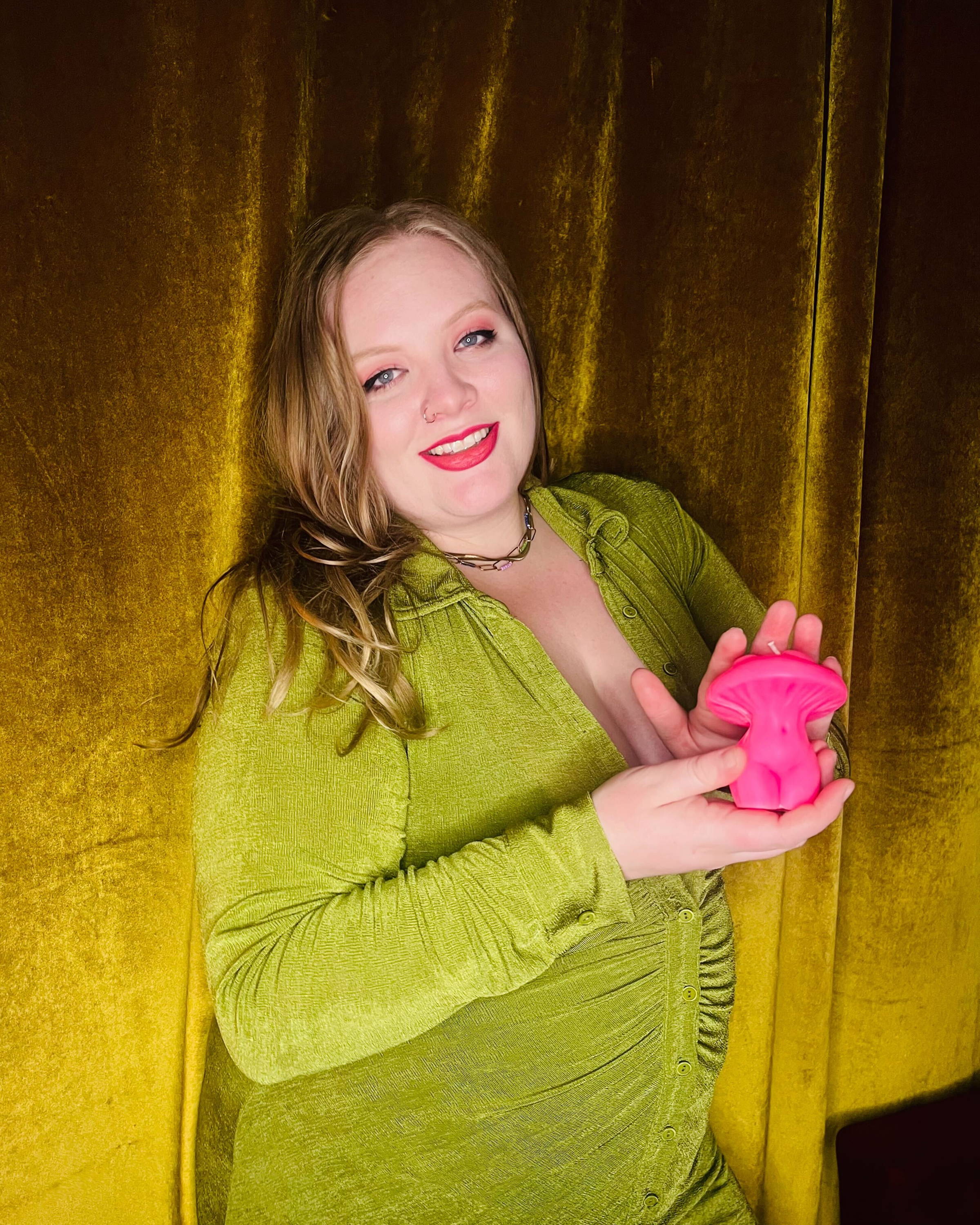 Addy Medernach, owner of Dim All The Lights


1. Quiet your mind.

"I've worked in fast-paced, stressful environments for a while… I was getting super burnt out and felt like I wasn't feeding my creative side. I was looking for something to do that would bring me a little more peace and quiet my mind that was hands-on. [Candle making] helped me slow down. I instantly fell in love with the process."
It's a process. Medernach shows us how she molds her creations
2. Make your home look happy.
"I'm all about ambience. Every time I come home from work and [am feeling] drained, the first thing I want to do is put the mood lighting on, light a candle, and get cozy. That really helps me decompress from the day."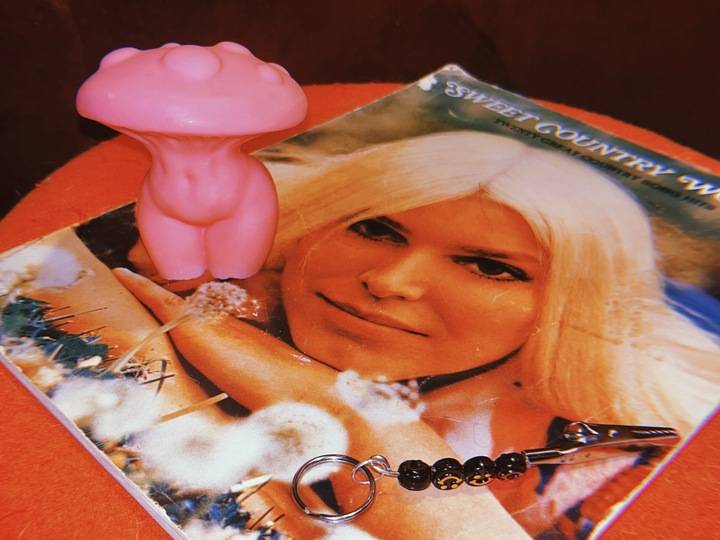 Hot girl shit (
above
): new shroom candle and smiley roach clips available in store at FSG. (
Below
) Kitty Marvin Gaye loves a good creature comfort.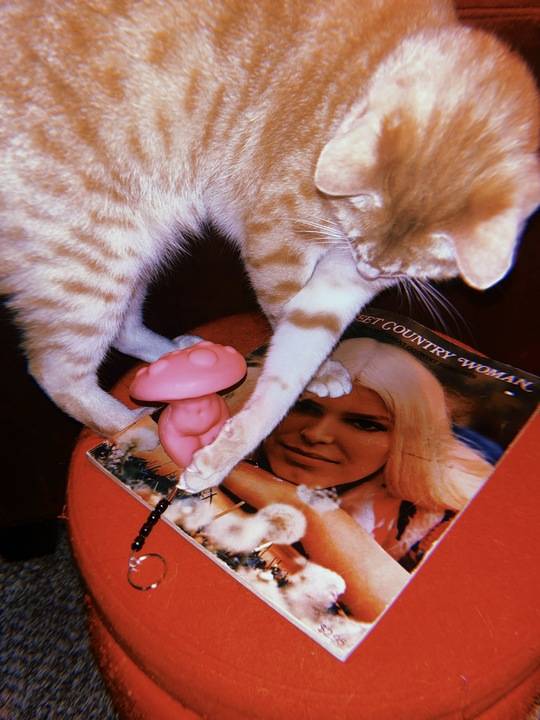 3. Normalize romanticizing your everyday life.

"Prioritize your self-worth. I think it's totally normal and cool to romanticize your life with yourself. It's good practice to take yourself on dates, see what you like. And if you are looking for love or open to something like that, if you find someone who likes to do those things as well, even better!"

Cozy corner: Medernach's retro flair shines throughout her home with this vintage salon chair, fuzzy decor and "Le Freak" candle drip
4. Have a "sight, sound, smell and touch" routine.
"Having that ambient glow just puts me at ease. Don't put the big light on! [Good lighting] creates a little more mystery and sexiness. Putting on a good playlist, lighting a candle or having incense burning, touch—I love having fuzzy slippers on when I'm getting ready. It helps me chill and prepare myself for going out into the world."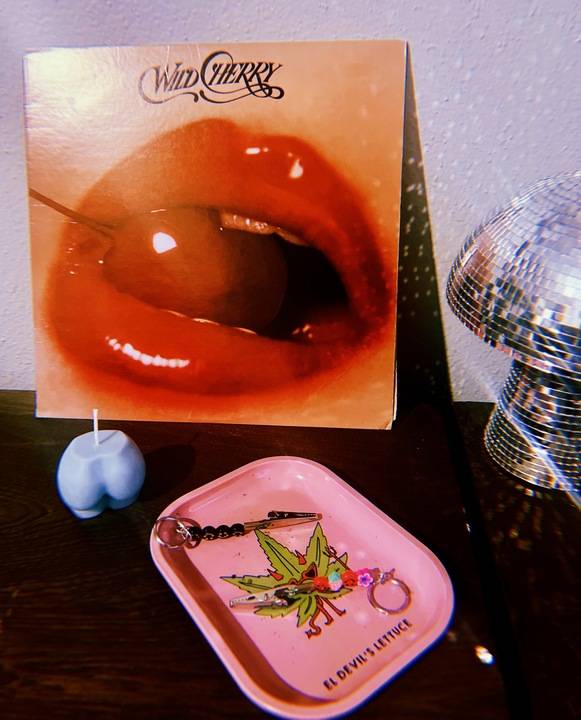 5. Take care of yourself first!
"One of the big reasons why I talk about setting the mood for when I get home is because I feel like at the bars [where I work] people share things with me constantly about their life, whether it be stressful, or heartbreaking, or happy. I'm totally an empath and I take a lot of that on. It can be hard… At the end of the day having a safe space is super beneficial. If you set your boundaries and take care of yourself first it'll be easier to open up to love."
In whatever form that may be—love that for us. ♡


SHOP DIM ALL THE LIGHTS ONLINE OR IN STORE