GUIDELINES FOR BEST RESULTS
Making sure that our customers are happy with their orders is our number one priority, that's why we take great pride in our process and helping our customers understand the requirements for the most successful of that art.
Below are our general steps and guidelines for best results. Take a quick look through how we do what we do!
WHAT CAN YOU DO TO HELP US?
→ Outline fonts and strokes in Illustrator and rasterize layer styles in Photoshop.
→ Put each color on its own layer and name it with the color.
→ Group layers of like colors.
There's two types of files commonly used for screen printing and both will work, but to achieve the best results we recommend vector or high-res raster artwork.
WHAT IS HIGH RESOLUTION RASTER ARTWORK?

The standard minimum resolution for print is 300 dpi at the desired print size. This means that the design was created at this size, and not scaled up from a smaller size. Ideally, we would not be scaling up more than 10%, such as making a 10" wide design 11" wide to print.
It is possible to have more resolution, such as 600 dpi at the desired print size, but at some point file size becomes a concern. For this reason, going above 600 dpi is not advised unless the design will be scaled up significantly.

Our sales and art department will gladly evaluate your art files to determine how well they could be printed. There are also methods to make low resolution artwork printable. We want to make it happen!

Vector art is created using vector illustration software programs, such as Adobe Illustrator orCorel Draw. These programs use mathematical equations and geometric primitives (points, lines, and shapes) to create art that is clean, camera ready, and can be scaled infinitely, without any loss of quality or fidelity.
The graphic below displays the difference between the two types of artwork when they are scaled to a different size than what they were created.
You'll notice how in the Raster art file the edges of the art become distorted when the picture is enlarged. You'll also notice how there are hundreds of shades of white in the Raster file, but only one shade of white in the Vector file.
Raster Graphics, such as photographs, and graphics files created inAdobe Photoshop,Paint Shop Pro, and other Raster editing programs, can be used for some screen printing applications, such as printing one-color pen and ink drawings. But in most cases, especially with art such as logos, we will need Vector art to achieve the proper print.

Vector art is usually created in Adobe Illustrator, and is commonly saved with certain file extensions; the four most common are .ai, .pdf, .eps and .svg.
However, just because a file is saved in one of these formats, does not mean that it is truly vector art. Sometimes, people open raster files in Adobe Illustrator, and re-save the file in a vector format, without recreating the art using the vector editing tools. Only art originally created in a vector editing program, such as Adobe Illustrator, is truly vector art.
So, how do you really know if your art file is a vector art file? The only way to know for sure is to open the file, and check to make sure that it was created as vector art. If you have a vector editing program, open your art file, and use the selection tool on an area within the art. You might see something like this: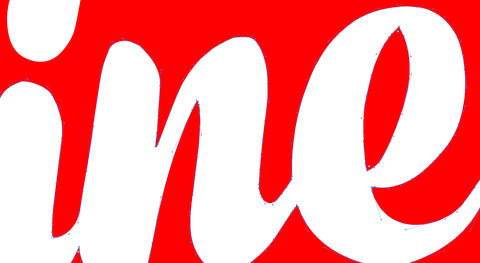 See the nodes surrounding the letterform? Those are vector editing nodes. If you see those, congratulations! You have vector art.
Easy enough, if you have the proper software. But most people do not own a copy of a vector editing program. In which case, you will need to find someone who does, and get them to check the file for you. We provide this service, free of charge. Use our contact page to get in touch with us if you need help.